Easy Rollin Rollex

a.k.a.  Rolex

$1,000.00 stud fee

This stallion comes from million dollar bloodlines.   Rolex, own son of Easy Rollin Jet, is quick as a cat - he is picture perfect, gorgeous, and glows like the color of a new copper penny.  Hard to fault, with perfect comformation, he is a great asset to our program.  We feel our magic cross is Easy Rollin Jet and Beduino, as proven by Easy Rollin Lobo, setting arena records. 

Everyone should be familiar with Easy Rollin Jet, now deceased, was an own son of Easy Jet AAAT All American Futurity Winner, World Champion, who sold for $30 million; he was a full brother to Pie In The Sky, All American Futurity Winner, whose selling price was a cool one $1 million.  Miss Jelly Roll, the dam of Easy Rollin Jet, and the only mare in history to produce three All American qualifiers also sold for $1 million.

                                                                                                                                                                                                                    Easy Jet

                                                   Easy Rollin Jet

                                                                                  Miss Jelly Roll

                    Easy Rollin Rollex

                                                                                  Juno Dat Cash

                                                   Queen Anns Cash

                                                                                   Ann Charge

Heat Treat Two

a.k.a. Tee

$1000.00 stud fee      

This Beduino bred stallion's pedigree includes five world champions. Tee is very athletic, at five years old this stud was outrunning circuit final barrel horses by a half a second consistantly. He has a great disposition, his colts reflect that, and they are very athletic and smart, and they continue to show up in the winner's circle.  He has a very dominate color gene, he tends to throw quite a few gray babies, or at the very least adds chrome.

Tee has been crossed with running bred as well as cow bred mares, and the results are always rewarding.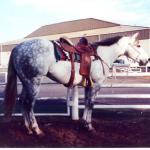 Beduino

                        White Heat Two

                                                    Miss Te Biscuit

Heat Treat Two

                                                    Moon Lark

                        Miss Cutty Lark

                                                    Miss Chittabar

EASY ROLLIN ROLLEX

NOW NOMINATED IN 

FUTURE FORTUNES!